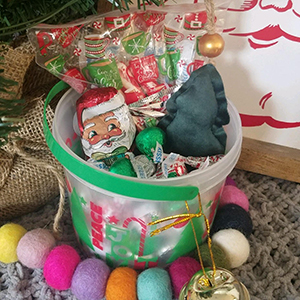 This holiday season, send a friend a "Jingle" to give them some cheer.
For $10 in Bellevue, Papillion and La Vista or $15 in the Greater Omaha area, a team of Offutt Enlisted Spouses Club elves will go dashing through the snow to deliver buckets of holiday cheer, or "Jingles," around the Offutt Air Force Base area. The cheer will be left on doorsteps from Dec. 1-21, with the one-horse open sleigh staying in Santa's barn during inclement weather.
To order, please fill out the order form with the name and address for each "Jingle" and then click "Submit" to check-out with PayPal.
These are meant to be anonymous.
Proceeds from this fundraiser will benefit the OESC's operations.
Questions can be directed to [email protected].