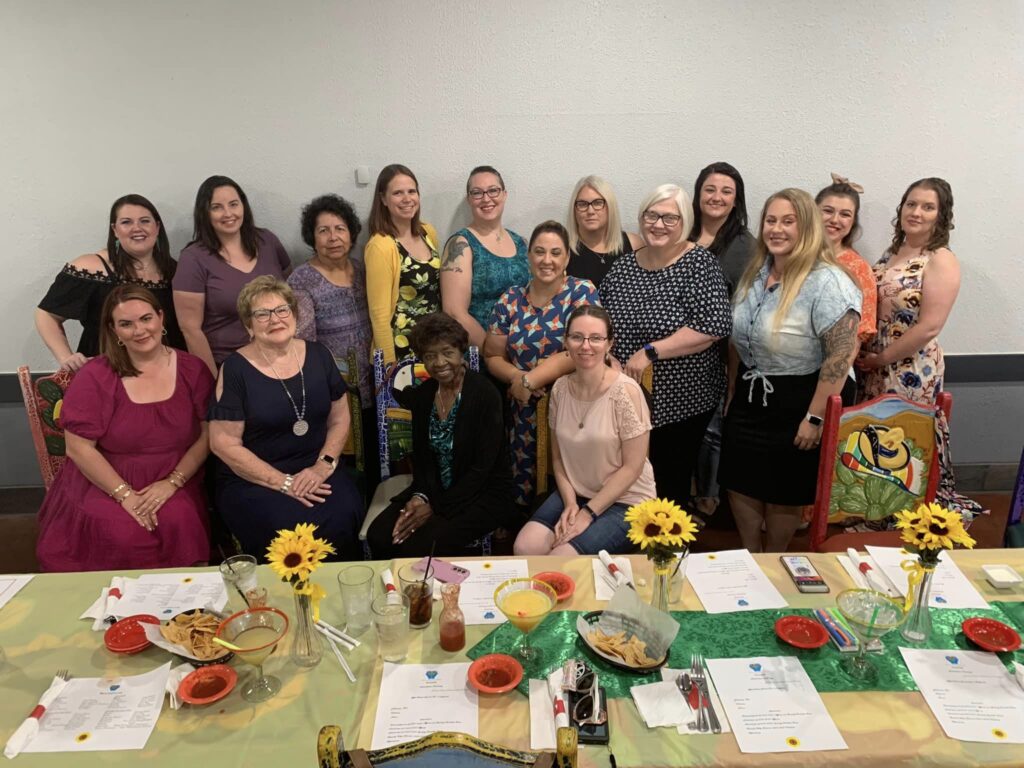 The Offutt Enlisted Spouses Club, a 501(c)3 non-profit organization, is a private organization based at Offutt Air Force Base, Nebraska.
Vision
Spouses supporting spouses through volunteerism and friendship.
Mission
To support spouses and serve our military community and community-at-large through charitable, educational, and recreational means.
Our History
For over 65 years, spouses of enlisted personnel at Offutt Air Force Base have been coming together to effectively coordinate social, charitable and educational activities that benefit Offutt Air Force Base, Bellevue and the greater Omaha area. We are the Offutt Enlisted Spouses Club (OESC).
The name, the members and the activities have changed since 1955 but the mission remains the same.
"To support spouses and serve our military community and community-at-large through charitable, educational, and recreational means."
We are spouses supporting spouses.
It drives everything we do.
Since 1955, the Offutt Enlisted Spouses Club has had three names—Offutt Noncommissioned Officers Wives Club, Offutt Enlisted Wives Club and Offutt Enlisted Spouses Club, welcoming more members with each change.
Our membership is currently open to any spouse of enlisted Active Duty, Reserves or National Guard personnel in the U.S. Armed Forces, as well as spouses of retired military personnel, located within the Offutt community. OESC does not discriminate on basis of race, color, sex, sexual orientation, national origin, disability, religion or ethnic group.
In addition to supporting spouses, the OESC is known for our commitment to community.
We have three signature programs:
Bingo, which is our longest running community project started in the 1960s. We first provided game night at German-American Home, then at Hillcrest Health Services properties and now the Eastern Nebraska Veterans Home. On one-night a month, OESC members and spouses call bingo for the residents, assist residents with filling out their cards and provide prizes to winners.
College scholarships, which started in 1972. Throughout the years, one to six scholarships have been awarded to military children graduating high school, or military spouses pursuing a degree. In 2019, OESC provided five $1,000 scholarships and six $1,000 scholarships in 2020.
Winter Wonderland, the holiday celebration which marked its 29th year in 2022. Transforming from a small breakfast to a night-time event with over 800 attendees, this spirited affair includes dinner, photos with Santa Claus and an age-appropriate gift (valued at $15 or more).
Though those three projects receive the majority of our resources, the OESC participates in community outreach and service year-round, with different activities and organizations selected as beneficiaries every year. In past years we have supported events like the Offutt Air Force Ball, the USSTRATCOM Army Birthday Ball, Senior Non-Commissioned Officer Induction Ceremony and various efforts related to the recovery from the March 2019 flooding. We have remained active in 2020 and 2021 despite the COVID-19 global pandemic.
To raise the funds for our charitable endeavors we have held fashion shows, done gift wrapping, held auctions, sold cookbooks—the first was in 1984 and worked the Offutt Air Show. We have also sold sweatshirts and T-shirts, held bake sales, sold roses and candy trees for Valentine's Day.
In 2011, we began the OESC Holiday Bazaar, which is now our largest annual fundraiser.
The OESC celebrated it's 65th year in 2020.
---
Did you know?
The Offutt Enlisted Spouses Club is a 501(c)3. In addition to fundraising, our work is made possible by donations, which are tax-deductible where allowable under the law.