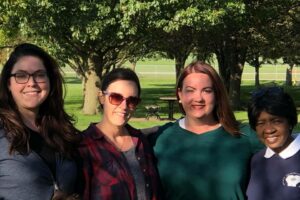 Today from 8 a.m. to 8 p.m., Offutt Enlisted Spouses Club members volunteered in support of the AFSA (Air Force Sergeants Association) Chapter 984, Offutt Air Force Base POW/MIA 24-Hour Run on the Parade Grounds.
This run is for an important reason—honoring past and present prisoners of war and military members missing in action— and it continues until 8 a.m. Monday. Runners and walkers take turns holding a POW/MIA flag, keeping it in forward motion for 24 consecutive hours.
As volunteers, OESC members checked-in runners and served as spotters while recording laps, ensuring the flag never stopped. In total, members gave a combined 25 hours of service throughout the first half of the run.